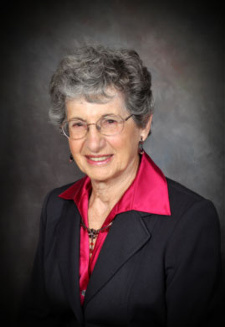 Elaine Breslaw graduated with a BA in History from Hunter College, New York (Phi Beta Kappa) and was awarded a teaching fellowship from Smith College in Northampton, Massachusetts. She received an MA in History from that institution and subsequently was awarded a Masters degree in Library Science from Pratt Institute in New York. She completed graduate work with a Ph. D. from the University of Maryland, her Dissertation: "Dr. Alexander Hamilton and the Enlightenment in Maryland."
After several years as a librarian first for the Brooklyn Public Library in New York and then Catonsville Community College and Morgan State University in Maryland, she began to teach history at Morgan State in 1965. After 29 years Professor Breslaw retired from Morgan but continued to teach early American history courses at the University of Tennessee until 2003. In the past she had taught a variety of history courses at Johns Hopkins University and Goucher College in Baltimore. During the 1989-90 academic year she held a Fulbright Senior Lecture-Research Fellowship at the University of the West Indies in Barbados.
Her most recent publication, Lotions, Potions, Pills, and Magic: Health Care in Early America (NYU Press, 2012) received early acclaim from both scholars and the general public. Library Journal (October 1, 2012) acknowledged the book "as an important compilation of authoritative research" of interest to the general public as well as "medical history buffs and professional historians." The book grew out of courses she had given when teaching about health in early America in the graduate programs at Morgan State and Johns Hopkins. She has been interviewed about the subject of health care in early America on NPR programs.
Professor Breslaw has written extensively on topics in early Maryland history first editing the minutes of the Tuesday Club that was published as the Records of the Tuesday Club of Annapolis, 1745-56 (University of Illinois, 1988) as well as several articles about the people in the club including its major organizer, Dr. Alexander Hamilton. Her biography of Dr. Hamilton, Dr. Alexander Hamilton and Provincial America: Expanding the Orbit of Scottish Culture was published in 2008 by Louisiana State University Press as part of their Southern biography series.
Other published books include Witches of the Atlantic World: A Historical Reader and Primary Sourcebook (NYU Press, 2000), which followed her study of Tituba, Reluctant Witch of Salem: Devilish Indians and Puritan Fantasies (NYU Press, 1996), a work that NYU Press considers one of its best sellers. Her essays on the Salem witchhunt have appeared in Ethnohistory and the Essex Institute Historical Collections
Professor Breslaw has contributed to the Encyclopedia of Environmental History (on witchcraft practices), the Encyclopedia of Colonial and Revolutionary America (on health and disease), and the Maryland Online Encyclopedia (on diets in the colonial era). She wrote the entry on the expatriate Scot, Dr. Alexander Hamilton, for the New Dictionary of National Biography.
Honors include election to the Hunter College Alumni Association's Hall of Fame in 1994 and election to Phi Beta Kappa and Phi Alpha Theta while an undergraduate. She was also chosen by the American Association of University Women in 1976 as one of the outstanding Baltimore County (Maryland) Women, 1930-1975. Her name appears in various Who's Who editions and the Directory of American Scholars.
Dr Breslaw lives in Baltimore, MD.